Our Ragdoll Cats

Mourningdove Willie Wonderful
| | |
| --- | --- |
| | Willie is a blue bicolor Ragdoll |

CCA Grand Champion Mourningdove Wilbur
| | |
| --- | --- |
| Wilber is a blue point bicolor Ragdoll male. He is the father of Willie Wonderful, and Robert Redford... | |

Mourningdove Alex
| | |
| --- | --- |
| | Mourningdove Alex is a seal point mitted male. |
| | |

Rags2Riches Scottie
| | |
| --- | --- |
| Scottie is a blue lynx point Ragdoll. | |
| | |

Mourningdove Tuscany
| | |
| --- | --- |
| Tuscany is a big boy with a beautiful coat, great attitude and deep blue eyes. He loves to be with people and has many feline friends as well. | |
| | Tuscany is a cream point mitted Ragdoll. He is 14 months old in these photos. |

Mourningdove Padraigue
| | |
| --- | --- |
| Padraigue is a cream bicolor Ragdoll | |

Mourningdove Zhivago (aka Willoughby)
| | |
| --- | --- |
| Here is my beautiful Zhivago (also known as Willoughby) He has such deep blue eyes and the girls just love his gentle ways and "from the heart" expression! | |
| | Willoughby is a blue point mitted Ragdoll |

Mourningdove Almost Always
| | |
| --- | --- |
| Almost Always is a seal point bicolor who is absolutely exquisite. The contrast between the seal and white and those eyes, (oh those eyes!!) is breathtaking! | |

Mourningdove Shopgirl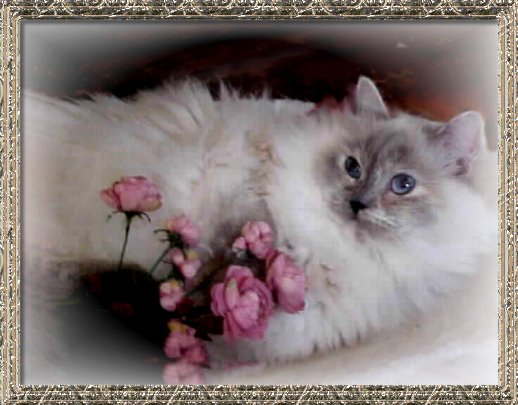 This is Mourningdove Shopgirl! She is a blue cream tortie female and she is very much like her namesake Meg Ryan in the movie "You've got Mail" She is my cuddler and is as soft and gentle as a "breeze"! I am inclined to refer to her as "My Beloved" because of the special relationship that exists between the two of us. I have even been known to try to teach her to "wink" !

Rags2riches Amy Nicole
Amy Nicole is a seal lynx point bicolor Ragdoll female.

This is one of my favorite breeder females. She was a treasure to Scottie and also to me. Just as "round" as she is sweet and gentle and loves everyone and everything...but is the Queen and demands respect.

Mourningdove Margaret O'Leary
| | |
| --- | --- |
| Margaret is a seal tortie point mitted Ragdoll | |

Tuftytoes Molly
| | |
| --- | --- |
| | Molly is a seal tortie point Ragdoll |